How Safety Eye Goggles Are Different From Common Eye Glasses?
Posted by Admin on March, 24, 2021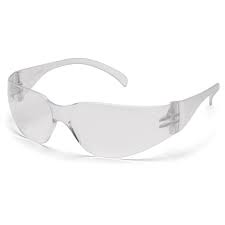 One of the important personal safety equipment for workplaces is safety eye goggles. Unfortunately, many workers underestimate their essential role. Safety eye goggles are important item that are required to protect eyes from various hazards and infectious materials.

Benefits of wearing safety eye goggles
Safety eyeglasses can protect the eyes from hazards that are commonly found in the workplace, such as chemical splash, metal debris, wood, dust and projectiles. That is why all works that have potential risk against eyes safety has to include wearing safety goggles as a requirement.
Wearing such glasses are required not only if you are working in the chemical plant but also it covers all industrial works as well as at home. You are really in real danger if working with tools and chemicals without wearing safety glasses.

The Features of safety eye goggles
Stronger lenses
Never think that safety eye goggles are the same as common eyeglasses in general. They are really different. You can differentiate them by looking at the frames. Safety glasses have thicker frames than eyeglasses. The lenses of such glasses are also designed stronger than regular eyeglasses.

ANSI standard to test drop ball
ANSI standard is a very common standard that applies to safety glasses. In ANSI standard, the lenses should resist to impact and pass a test of a drop ball. The test is conducted by dropping the ball from a certain distance onto the lenses.

Heat resistant
When the lenses can pass the ball test, then the lenses can be used for safety eye goggles. Meanwhile, frame materials should be heat resistant. The frames design should be able to prevent the lenses from being pressed into the eyes when they are being worn.

Complete eye protection
Lenses are usually made of polycarbonate. Polycarbonate is very impact resistant, stout and stronger material used. Safety eye goggles are also equipped with a top and side cover to give full protection to the eyes. And a string is also attached to both sides of the frames to protect the glasses from falling when used.

Perfect fit
Finally, choose safety eye goggles that give a good fit. Please do not ignore your comfort when they are being worn.
Where to buy safety eye goggles- online or offline?
Safety goggles are available online as well as offline. Numerous Safety Eye Goggles supplier in Bangalore fulfil the rising demands. They provide the following features in their products.

Specifications available:
Shape: Rectangular
Style: Modern
Colour: Transparent
Feature: Anti Fog, Heat Resistance, Water Proof
Packaging Type: Plastic Box
Lens Thickness: 0-5mm
Lenses Material: Glass

Contact one of the leading safety eye goggles supplier in Bangalore who provides quality products to benefit the clients. They use the high quality materials for the production of safety goggles that are priced at an affordable rate using the best technology machines. They also have competent experts to operate the manufacturing machines and assure the standard quality of the eye goggles. The company also delivers after-sale services to get reviews on their products so that they can know if they need to develop product quality.
This entry was posted on March, 24, 2021 at 16 : 51 pm and is filed under Eye Goggles. You can follow any responses to this entry through the RSS 2.0 feed. You can leave a response from your own site.